The original remote control is not available.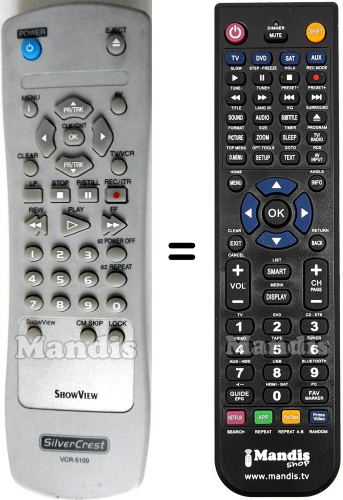 Click to enlarge
Replacement remote control VCR5100
Shipping to United States: £ 10.78 (Standard shipping (no tracking), 2 - 3 weeks)
When purchasing the remote, a document will be sent detailing the relationship between the buttons of the original control and those of the replacement remote.
Description
Remote control that replaces the VCR5100 remote in most of its functions. This is not a universal remote but a copy that tries to replace the original. You will receive the remote fully prepared, to operate it just need to put the batteries. It is sent already programmed. You are fully guaranteed that the remote will perform most of the functions of the original one.

This remote control performs all the functions of the original remote control:
Power, Eject, Menu / i, AV, Up / PR/TRK+, Down / PR/TRK-, Right, Left, OK / CLK/CNT, Clear, TV/VCR, LP, Stop, P/Still, REC/ITR, REW, Play, FF, ez Power Off, ez Repeat, 1, 2, 3, 4, 5, 6, 7, 8, 9, 0, ShowView, CM Skip, Lock

It uses 2 batteries of the type AAA
1.5V alcaline batteries AAA LR03, used in a great majority of remote controls.
The remote control is packaged along with batteries (if ordered) in a bubble envelope for more protection. Shipping is done quickly and safely, ensuring, as far as possible, the delivery deadline. The invoice will be sent by email.