Description
original remote control KT-N898 used for air conditioners LSD2461HL, LM2063H3L, LSS1260CL, AG1AH12BWF01, LSJ0962HL, ASH0764DM0 for the brand LG. This is an original remote control.
Brand
Brand:
LG

This remote is used for Air Conditioners
Documents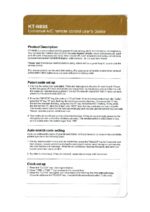 KT-N898.pdf

It uses 2 batteries of the type AAA
1.5V alcaline batteries AAA LR03, used in a great majority of remote controls.
The remote control is packaged along with batteries (if ordered) in a bubble envelope for more protection. Shipping is done quickly and safely, ensuring, as far as possible, the delivery deadline. The invoice will be sent by email.
Questions on remote LG KT-N898
Payment methods
We have several possible methods of payment
Read more
Shipping and delivery
When your order is completed successfully, we will send you the products as soon as possible
Read more