Replacement remote controls that replace in all its functions the remote SHERWOOD RM-RV51: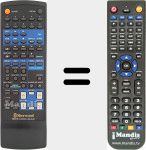 Replacement for RM-RV51
£ 23.60 (VAT included)

Description
original remote control RM-RV51 for Sherwood. This is an original remote control.

Make sure that your remote control exactly matches the image or the reference of the remote control shown here. If you have lost the original one, you may find a photo or drawing of the remote in the manual that you can compare to the photo shown here. If you are not sure, or you can't find your remote control, locate the brand and complete model number of the apparatus (you will usually find this on a label on the back of the device) and contact us so we can find a solution.

This remote control has the following buttons:
Power, P.Scan, 1, 2, 3, 4, 5, 6, 7, 8, 9, 0, CD Disc, CD Play, CD Pause, CD I<<, CD >>I, CD Stop, CD Repeat A<>B, CD Intro, Deck Sel A, Deck Sel B, Deck Play, Deck Play reverse, Deck >>, Deck <<, Deck Pause, Deck Stop, Deck Rec, Equalizer Preset, Equalizer User, Equalizer File, Equalizer T.Mon, Equalizer Display, Input Selector CD, Input Selector Tuner, Input Selector Video1, Input Selector Aux, Input Selector Tape Mon, Input Selector Video2, Input Selector 6CH Direct, Video3 Input Selector, Stereo, Surround Mode -, Surround Mode +, T.Tone, C.Mode, D.Time, Display SYS, Sleep, CH Sel., Mute, CH Level +, CH Level -, Master +, Master -

It uses 2 batteries of the type AAA
1.5V alcaline batteries AAA LR03, used in a great majority of remote controls.
The remote control is packaged along with batteries (if ordered) in a bubble envelope for more protection. Shipping is done quickly and safely, ensuring, as far as possible, the delivery deadline. The invoice will be sent by email.
Replacement remote controls
Questions on remote Sherwood RM-RV51
Payment methods
We have several possible methods of payment
Read more
Shipping and delivery
When your order is completed successfully, we will send you the products as soon as possible
Read more